The hits keep on coming!
The birds are chirping announcing spring it in the air. My it's nice that the weather is warming up. It's still tolerable at the moment and that is nice. I'm still reading my little eyes in to the ground. I just finish doing a read-a-thon this past weekend and had great fun doing it. I was on a quilter's shop hop last Thursday, but we still had 2 stories left to do in the thumb region. So me & Donna hit the road on Saturday and we were off. I love to read when I'm in the car, so I brought my e-reader with me. I did a great deal of reading as we traveled down the road.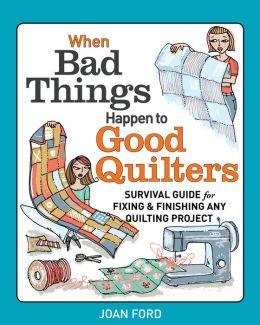 One book for this week is "When Bad Things Happen To Good Quilters" by Joan Ford.
Overview:
ScrapTherapy is an innovative step-by-step quilt class and pattern series that has become extremely popular nationwide. The success of Joan's first two books has quilters, fabric and quilt-shop owners, and sewing enthusiasts clamoring for more.
From talking novices through the quilting process to helping more experienced quilters resolve complicated setbacks; this is the tool they need to troubleshoot and to get (and keep) projects back on track.
This book is chalked up with lots of wonderful tips and techniques to fix those things that sneak up and say "nanner nanner" while sticking it's proverbial tongue out at you. The book will have you fixing any problem that can or has plagued you and caused that WIP tossed a side and become the dreaded UFO. Admit it we all have been there at one time or another.
Joan leads us through all the common sewing machine feet that a quilter can encounter. To common machine maintenance, tools for the trade and other handy tips are offered throughout the book. I would say this book should be in every quilters library for all the helpful information in it that could possibly turn those dreaded UFO's in to finished treasured pieces. I would definitively give it 4.75 out of 5
stars. And I can happily say that my local library now carries the book. Yeah!
Now I have a historical romance for you that takes place in 1410 AD Germany. This one I got from NetGallery in exchange for my honest opinion, so please understand that this review is how I perceived the book. "The Wandering Harlot" by written by Iny Lorentz & is from
Amazon Publishing.
Overview:
In 1410 in Constance, Germany, the beautiful Marie Schärer's luxurious life as a merchant's daughter is destroyed when her ambitious father arranges her marriage to a lawyer from the Black Forest named Rupert Splendidus. Her childhood sweetheart warns her of the attorney's sly character and is tragically proven right the day before the wedding, when Rupert accuses Marie of unimaginable behavior and has her thrown into a dank dungeon, where she is brutally attacked by his henchmen. Unfairly condemned and banished from her home, Marie is forced to become a wandering prostitute to survive. The clever and kind Hiltrud befriends Marie, and the strong-minded pair sets out on spirited adventures—bedding counts, meeting scoundrels, and tricking foes—as Marie plots the ultimate revenge on the men who stole her honor and her family's fortune.
Set against a richly detailed historical backdrop, this is the dramatic tale of one woman's quest for vengeance, redemption, and real love.
This was my first time with this author and so begins my introduction to the 1st book of the Marie Series. Some times it's hard to find a good historical plot line set in this period. This piece of fiction has a good deed of accurate historical background to make it believable. The heroine is strong & determined when men ruled the castle, the land and the females in any fashion they deemed acceptable by their laws. The women were submissive ... at least most of them.
This is not your typical story of love, princes and happy-ever-afters that we grew up believing.
No, this was more about the struggle of the female character - Marie must face when a greed is had by a nefarious lawyer. As we follow her, you can't help to feel a multitude of emotions along the way with her. Times are hard in the 1410 AD, but it was good to see Marie pick herself up and face her challenges head-on.
While the characters are complex, you come to understand what role each of them plays and I found them to be well written and realistic. I was able to see the seasons, places and events form with out feeling like I was missing some thing. It has a smooth flow and is well thought out. Which is not always found in similar books. This story is long with it's almost 500 pages, it was nice to have all the relevant pieces come together as I went on. The book has me thinking of Phillipa Gregory, George R. R. Martin and Ken Follett. If you are into those kinds of story lines, then I recommend picking up this book. It's gripping story line will keep you enthralled page after page. I would give this a solid 4.5 out of 5 stars. And I am finishing up a few more books and then I'm going to be reading book 2 of the Marie Series. The title to that one is the " The Lady of the Castle".
For all you animal lovers out there here is that book that make you want to say "awwwww". What book am I talking about? I give you "Almost Perfect" by Diane Daniels Manning. This ARC was given to me for free in exchange of my honest review from NetGallery and the publisher, Beltor- Author Buzz.
Description
A YA novel about two unlikely friends, their dogs, and the competitions that bring them and their community together. (Kirkus Reviews)

An old woman who has given up hope and a boy who believes the impossible wonder if life would be perfect at the Westminster Dog Show.

Seventy-year old Bess Rutledge has dreamed of winning the Westminster Dog Show all her life. Despite her decades-long career as one of America's top Standard Poodle breeders, she has decided she's too old to hold on to her foolish dream. She sells off all the dogs in her once famous kennel except for the aging champion McCreery and his mischievous, handsome son Breaker. Part of her senses they might have been the ones to take her to Westminster, if only she'd dared to try.

Bess meets Benny, a teenager with mild autism who attends a therapeutic special school, and learns he has a dream of his own: to impress his self-absorbed mother. Benny is drawn into the world of dog shows and becomes convinced he has found the perfect way to win his mother's attention. If he can win Westminster with either McCreery or Breaker, he just knows she will finally be proud of him. Getting Bess to go along with his plan, however, is not going to be so easy. . .

Up to 100% of the author's profits will be donated to charities serving animals and children. Visit www.dianedanielsmanning.com.




The story is full of emotions and helps with such things as the understanding, coping, the sense of lost, relationships, special needs and other coming-of-age issues. The dogs in the story are not just extra fluff to make you go "aawww" but substantiates their presents in the story for the human characters.

This was the sweetest story I have read in a long time. I have always enjoyed stories that featured animals. I grew up with that like of James Herroit's "All Creature Great & Small" series. So when I came across "Almost Perfect" in Net Gallery's list, I jumped to the chance to read it. I remember watching the Westminster Dog Show as a child and still do. I also know that it is one of "THE" biggest dog shows in the dog show circle. It's the equivalent of the the Triple Crown in the Thoroughbred world. It's no small chore to getting a dog to said show. It takes a lot of hard work and discipline once it is determined that the puppy is show quality.




We are taken down the path of the characters that reflects with realism throughout the book. In both, the main characters and secondary characters. This does include one cranky old lady named -

Bess Rutledge; who flattens her was beloved & successful poodle kennel without going to the one show she dreams about the most. To Benny - an autistic, pre-teen boy who wants to "make his mother proud of him" to get her attention and approval.

We also meet Bess's son - David, her twin sister - Mona and Dr. Kate, the school

psychologist and how they help with the development of the relationships of Bess & Benny as they are fraught with challenges.

But most of all we have two other main characters in the book. They not be human but they show that love is unconditional. McCreery and Breaker some of the last of the

famous Umpawaug

standard poodles from Bess's kennel.

Diane Daniels Manning uses the Westminster Dog show for the background as a leader board which establishes the such a presents in a world that most of us don't have a clue about. The setting helps us how those in the "business" make the choices that they do and how it has a ripple effect to those around them. This book shows us what devotion can look like from both sides of the ring. It's sweet, heart-felt story without it being too over the top sweet. It shows not only the failures one feels, but it shows the conflicts in a believability that resonates all the way through the book.

I strongly recommend this book to everyone. It touched on so many different aspects, that if 10 people read it; they all would take 10 different things away from the story line. I would have to give this touching plot line a full 5 out 5 stars. Thank You

Diane Daniels Manning for bring us this near perfect book. May I review for you again in the future. And Thank You Net Gallery for allowing me to review that wonderful book too.

Well folks that concludes this addition of book reviews. I have so many more to share with you so until then ...

Toodles,
Tricia