Welcome my bibliophile friends! Here we are once again with the week circling back upon it's self. It's time for:
With all the chaos that is taking place around here; I truly look forward to my nightly reading time so that I might "mentally decompress".
So now I sit here at the keyboard with a cuppa of Chocolate Caramel Brownie coffee with a splash of Hazelnut liquid creamer as I hide from the mid-80's + the high humidity that is gripping our area.
I have several books again this week that are as different as apples and oranges. I try to mix up the batch as much as I can for you. With luck one or two of these might spark an interest during these "dog days" of summer.
First up is a True Crime piece of Non-fiction under the title of "Fruit of the Poisonous Tree" by Richard W. Carson. "Fruit of the Poisonous Tree" is a second edition of the book originally titled "Murder in the Thumb". The new edition features updated information and a detailed list of characters. It comes to me as an ARC from Net Gallery for the review to obtain my honest opinion in return and should be taken with a grain of salt.

Description
First came the unsettling Ouija board prophesy that Robin Adams would die before her 17th birthday. When a minister summoned to rid the house of frightening phenomena blamed on the Ouija board, he was taunted and denounced by a neighbor and suspected Satanist. Thus, the die was cast for one of the most bizarre murder cases in Michigan history. In 1976, when Robin vanished without a trace from the village of Caro, police were left without a body, witnesses or anything remotely resembling a crime scene. The case went cold for six years. Then, when a rookie state police detective was assigned to reopen the the investigation, what followed reads like the chapters from a Stephen King novel -- right down to the claim that the killer's grandmother was practicing black magic to avenge efforts to bring him to justice.
In light of a another 25-year-old cold case recently solved in Newaygo, MI. (where another 18 yr. Michigan woman was murdered); the timing in reading this particular story has it fresh in my mind.
I found the story well researched and well written without a lot of "unnecessary fluff" to distract me from the events that took place. The rollercoaster of feelings that it invoked in me has me remembering that the stalking laws brought about in 1993 was too late for these young ladies.
You get a sense of "true character" of the victim, the killer and all those involved with the case through the words of Mr. Carson. You actually feel like a person who was there. There is such a wide range that included Robin's fear, the terrified toddler whose love for "Robbie" will tear at your heart. Then there is forlorn loss from her friends & family, to the very real frustrations of the police officers in the lack of evidence in the case. And the relief that was to finally felt when Robin was located, given back to her love ones to be laid to rest and the case was closed by all.
It's a terrible thing when life is cut short. It's more so when it becomes a cold case for no fault of those involved trying to bring justice to a victim that has to wait for it.
Richard W. Carson brings you into the story with eyes wide open in a no nonsense reality that will you unable to put this book down until that last page where you (the reader) letting out your breathe of relief and cheering for the good guys!
This page turner is very much a gripping tale has me giving it a 5 out of 5 stars from the first chapter. It is good to see justice prevail as it should. I will be recommended it to anyone who will listen and request that the Barryton Library brings in it's own copy. I sincerely hope that we will hear more from Richard W. Carson in the future.
Well done Mr. Carson. Well done.
-------------------------------------------------------------
"In the Shadows of Jezebel" by Mesu Andrews was also brought to me by Net Gallery in agreement to give it my honest opinion.
Description
Set in Israel in the days of Elisha and Jezebel, this story weaves a tale of powerful women, kingdom politics, and the protection and restoration of the rightful heir to the Throne of David.
Trained as a priestess in the temple of Baal, Princess Jehosheba strives to please the demanding Queen Athaliah, daughter of Jezebel. But when a mysterious letter from the dead prophet Elijah predicts doom for the royal household, Jehosheba realizes that the dark arts she practices reach beyond the realm of earthly governments.
Forced to marry Yahweh's high priest in order to further Athaliah and Jezebel's power plays, Jehosheba enters the unfamiliar world of Yahweh's Temple. Can her new husband show her the truth and love she craves? And can Jehosheba overcome her fear and save the family--and the nation--she loves?
With deft skill, Mesu Andrews brings the Old Testament to life, revealing a fascinating story of the power of unconditional love.
Now I have to admit this is not my normal read. For the most part I have pasted on this one. But for some reason I found myself requesting it. This is fictional Bible story of the Old Testament of a historical genre without a doubt, but I profess that I'm not a huge Bible reader; so I went in without the background story so to speak.
Once I stumbled over the pronouncing of the names for a while I just let the story present it's self in a normal reading fashion. Thanks goodness for the family tree and character index in the beginning was there to help keep things in a somewhat manageable tangle.
There were many love/hate, good/evil, politics/family instances in the story that brought about a realism to the characters throughout the book. There is certainly something for everyone in this book! It gave me a different way of looking at things during a time which was foreign to me. The thrill of danger, the hope of love & trust and intrigue made it all worth in the end after the 400+ pages. My praise to Medu Andrews. You have made a Biblical back story come to life even for a reader like me. I didn't even realize that this was #4 in a series! 4.5 stars out of 5!
--------------------------------------------------------------
So how about something a little more light heart? Well I offer up to you a great little book that goes by the title of "Full Steam Ahead" by Karen Witemeyer.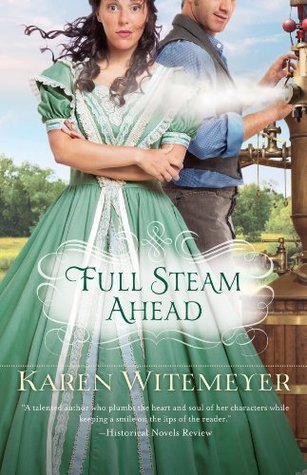 Bethany House Publishing sent me this actual book for a review. Of course the review should be taken with a grain of salt as the opinion is all mine & mine alone.
Description
Nicole Renard returns home to Galveston, Texas, to find her father deathly ill. Though she loves him, Nicole's father has always focused on what she's not. Not male. Not married. Not able to run Renard Shipping.
Vowing to find a suitable husband to give her father the heir he desires before it's too late, Nicole sets out with the Renard family's greatest treasure as her dowry: the highly coveted Lafitte Dagger. But her father's rivals come after the dagger, forcing a change in Nicole's plans.
After a boiler explosion aboard the Louisiana nearly took his life, Darius Thornton has been a man obsessed. He will do anything to stop even one more steamship disaster. Even if it means letting a female secretary into his secluded world.
Nicole is determined not to let her odd employer scare her off with his explosive experiments, yet when respect and mutual attraction grow between them, a new fear arises. How can she acquire an heir for her father when her heart belongs to another? And when her father's rivals discover her hiding place, will she have to choose between that love and her family's legacy?
I love have an actual book in my hands on a regular bases. They cocoon me in the paper scent that books tend to have. This book I enjoyed very much while I read it with my meals, with it light-heartiness made me smile at times as I could picture Darius's disheveled stubbornness meeting Nicole's determined and her considered forthright manner in many aspects of their lives. As they fall full steam ahead in love they find that sometimes being themselves doesn't always mean the same in a polite society.
But on the more serious side, we learn about the demon that drives Darius in his personal quest of understanding why steamship boilers are exploding like a man obsessed. In the Note to Reader section of the book, Karen brings to light the dangers of steamboat equipment discussed in the fiction story was a real danger. She shares with us that these type events brought to light the The Steamboat Act of 1852 by Congress. Out of this act comes the beginnings of the Steamboat Inspection Service agency.
Even though the book is a piece of fiction, I found it interesting that in bore facts to the bearing of new administration laws to real life. I would give this 4 out of stars. Karen Witemeyer is a relatively new author for me (2nd book read), I look forward to reading more by her.
-------------------------------------------------------------
Dark, Teasing, Intriguing, Twisted, Gripping are just some of the words I'm using to describe this next book!!
I present Natasta Mostert's "Season of the Witch".
Description
In her award-winning novel*, Natasha Mostert blends alchemy, the art of memory, high magic and murder to create a highly original psychological thriller.
Gabriel Blackstone is a cool, hip, thoroughly twenty-first century Londoner with an unusual talent. A computer hacker by trade, he is also a remote viewer: able to 'slam a ride' through the minds of others. But he uses his gift only reluctantly -- until he is asked to find a young man last seen months earlier at Monk House, in the company of two mysterious women. Gabriel becomes increasingly bewitched by the house, and by its owners, the beautiful Monk sisters. But even as he falls in love, he suspects that one of them is a killer.
This e-book from Net Gallery had be clutching my e-reader like a reader possessed. Now just so you know up front - this is not the book that the movie with Nicholas Cage & Ron Perlman was in.
Okay, now that we have that out of the way. This is gothic style story has hints of crossing sci-fi, psychic telepathy, supernatural witchy stuff with a generous dashes to dark magic, geeky computer hacking, mystery and a revisit of alchemy thrown in to keep it interesting as the book comes to a boil. Beware of things that go bump in the night!
This is the first book by Natasta Morsert that I have read. I have seen some of her other books and chances are that they too will end up on my summer reading list. 4.25 stars of 5.
As always with ARC books from Net Gallery I state that the forth mention review was of my own personal feelings.
----------------------------------------------------------------
As the evening draws upon us, I gather my next of stories for next week. I decided to post early this week as we have overnight company coming for the holiday. With that and a full schedule this week, I wasn't sure if I would get this edition put to bed so to speak. Of course I love to hear what you think of the books I presented. If you have a recommendation that you would like me to read & review…please feel free to leave a comment below. Until next time…
Toodles,
Tricia